The European Certificate Program in Isadora Duncan Studies
An accredited program held throughout the year in intensive sessions across the globe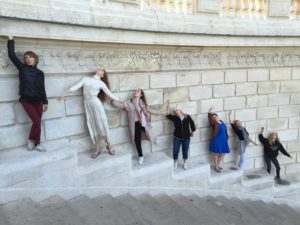 Based on our original, U.S.-based Certificate Program in Isadora Duncan Studies I: The Training, The European Certificate Program, inaugurated in 2016, draws upon the same principles of training and education but differs in a new international location annually. Comprised of intensive studio sessions and field work, the European Certificate Program draws from the unique stores of art, history, dance communities and cultures that remarkable locations hold. Past venues have included Vallauris, France in 2016 where candidates took in the rich history of the impressionists and early modern artists that lived and worked only steps away from our studio there. As they moved through Renoir's garden and Picasso's studio, students and professionals alike had the rare opportunity to view their own artistry through a new lens of conception in situ. Inspirations, ideas and influences are translated from site visits to studio workshops and studies via the dance of Isadora Duncan. Most recently, the European Certificate Program was housed in Delphi, Greece where the ancient and eternal are alive via the living flame of the Delphic Ideal.
Highlights include:
Intensive studio seminars exploring Isadora's international oeuvre in locations of historical, natural and artistic import
Group day trips with site-specific movement explorations and lecture demonstrations
Individual opportunities for personal choreographic work and artistic worksharings across mediums
Festive group meals
Performance opportunities
History of our Certificate Program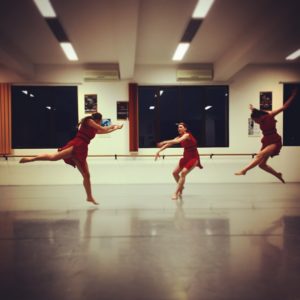 The Certificate Program I is a professional training program leading to the Certificate in Isadora Duncan Studies and to the development of new Duncan programs internationally. In 1989 the first Certificate in Duncan Studies, implemented by Dr. Patricia A. Rowe, pioneer of dance in higher education, in conjunction with Kay Bardsley, was established within the New York University Graduate School of Education, Department of Dance and Dance Education Master of Arts degree program. Jeanne Bresciani was chosen as the founding director of this Duncan specialization which was initially housed at the Department of Dance and Dance Education, directed by Dr. Patricia A. Rowe, as part of the Department of Music and Performing Arts Professions at New York University. Programs are now held at Tempio di Danza, at the 92Y Harkness Dance Center, and at specially selected institutions worldwide.
Prerequisites for the Certificate Programs include a Bachelor's degree or the equivalent in professional or life experience. Admissions procedures involve the completion of an application, including personal essay, professional references, educational transcripts and a medical form as well as a personal interview, either by phone or in person.
The IDII is interested in mature, developed individuals seeking to enhance the integration of mind, body and spirit for themselves and for future generations within professional movement settings. Writing, speaking and movement skills are essential. Professional dance or movement training is not required. It is important that candidates be able to work openly and effectively in group process and with self-motivation and concentration independently.
Please check back here for news on our upcoming European Certificate Programs!
2018 European Certificate Program
Venice, Italy
Date TBA