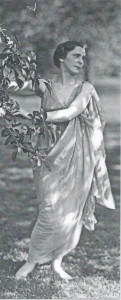 Isadora Duncan International Institute Lineage
The dance lineage and traditions preserved by the Isadora Duncan International Institute via Artistic Director, Jeanne Bresciani, stems from Anna and Irma Duncan through years of study and performance with their principle disciples, Julia Levien, and Hortense Kooluris, and from Maria-Theresa Duncan through direct study with her (1975-1986) as well as her long time pupil, Kay Bardsley, and from Elizabeth Duncan, through her childhood study and study with Anita Zahn, the chief exponent of Duncan pedagogy in North America.
The Isadora Duncan International Institute dances, which are Isadora's original choreographies, preserved by the Isadora Duncan International Institute include those from the period of Grunewald School (1905-1908) and subsequently, as taught by Isadora Duncan and her sister, Elizabeth, to the "Isadorables": Anna, Irma, Maria-Theresa, and Lisa Duncan. These dancers of the Isadorian tradition later translated the technique and choreography of Isadora to their own pupils.
In addition, Duncan's later dances, such as those of Duncan's Russian period, were passed down to the Isadorables and have been preserved by the Isadora Duncan International Institute in notated and video formats.
The Isadora Duncan International Institute has brought these original choreographies, as well as new works, to a wide range of populations in educational and theatrical settings for children and adults. Enthusiast of the arts, creative arts therapists, educators, choreographers, specialists of archetypal psychology, are just some of the groups with which the Isadora Duncan International Institute has engaged in fruitful collaboration.
Today Duncan's art, philosophy and pedagogy thrive in the vast body of technique, choreography and expressive arts active within The Isadora Duncan International Institute. The organization stands rooted as a living model of eternal ideals in present time. The miracle of stillness, silence and repose – modes rediscovered in the West by Duncan as a treasury for embodiment – serve the sacred dancer and all dancers to walk, run, skip, leap, rise, fall, rest and spin in her footsteps. From the bastion of the IDII's choreographic holdings, 200 strong, descending in direct lineage from Maria-Theresa Duncan and in second generation inheritance from Anna, Irma and Elizabeth Duncan via Hortense Kooluris, Julia Levien and Anita Zahn, it is the IDII's particular mission to have traversed stage, shoreline, mountain top, altar, classroom, sacred grove, temple steps and the far-reaching dimensions of our own and others' transformative potential in accord with Duncan's poetics of movement and sense of the beautiful.
We are Proud that our Institution Partners Include:
92Y Harkness Dance Center
New York Center for Jung Studies
Word Dance Theater
Kosciuszko Foundation
Temple of Calla Lily (Tokyo, Japan)
Kaatsbaan International Dance Center
Skidmore College
Barbara Kane, Isadora Duncan Dance Group (London & Paris)
Isadora Duncan Dance Research Center (Athens, Greece)